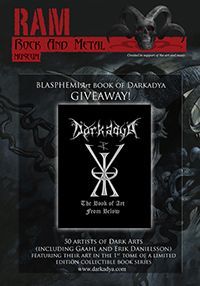 GREG INTERVIEWS LARIYAH HAYES (2016)
Already established as an artist and frontwoman of metal band Khaotika. Lariyah Hayes has recently branched out into the world of publishing with her first book 'Darkadya', a collection of works by fellow artists and creators from and related to the extreme metal underground. With volume one's limited edition - featuring Vincent Castiglia (Triptykon), Gaahl (Wardruna) and Erik Danielsson (Watain) among many others - now sold out, a second volume is already on the way, with further volumes highlighting some of the world's best metal photographers and tattoo artists also planned.
Q. Where did the idea for the book come from?
"Whenever you work on an album, right after the music is recorded, or in the meantime, you think what are you going to be using for the cover and all the presentation. Even the photography is to me a huge part of art. I spoke to a lot of bands who were on the same page; they struggle with what would be best and were asking 'Do you know any artists?', asking for references and contacts. Once, a pretty big name in the music industry asked me if I knew anyone who could help with the rendering of his own drawing. Just for a laugh I said 'You're like the hundredth person to ask me about art, I should probably create a book or something so you can just choose who you want!' That's how the idea was born."
Q. How did you decide which artists to feature?
"The artists in the first book are all pretty much my friends, or referred by my friends, so I reached out to them. With Erik from Watain, for example, my husband and I were working on their stage props. With Gaahl from Wardruna, I didn't think he'd ever respond, but I thought 'Hell, why not?' When I heard back from him I was jumping like a little kid!"
Q. Had you already seen some of the other books focussing on metal album covers and art?
"It was after I launched 'Darkadya' that I found out there were books focussing specifically on album covers. I felt totally ignorant that I didn't do a search before! For example, I have become great friends with Ramon Martos who has also showcased his book in the gallery, and we're going to work together in future. There are a lot of people already focussing on album covers because there's a magic behind many of them."
Q. How important do you think album covers are in the digital age?
"Digital downloads and art on a screen will never give out the real feel of what you can hold and touch and smell. If someone says they're an enthusiast of arts of any kind and they're showing you their iPad or a download, to me it's so fake. I have a bunch of vinyls myself and although there is a bit of a boom back, it will never be the same as before. This is the life we live in and everybody's trying to make it comfortable for themselves and not everyone has room to store all of that, so I can understand that part. The value of art goes down and income goes down, expenses go up for the majority of people and they're trying to save as much as possible. That's how the worlds of hacking and illegal downloads got started. People who are trying to save this world of art and putting books and magazines or galleries together, they're the ones that believe this might come back to the human senses. That's the beauty of art."
Q. Do you have a favourite album cover?
"That's definitely too difficult! I believe in physical copies so I have a bunch of them, but I would say that from the newest ones I would probably pick Denis Forkas Kostromitin, the Russian artist that did 'The Satanist' album by Behemoth. I really, really like that piece because people would be expecting something just not that artistic, and he grabbed me with his technique and the way he put colours together. On the other hand, I really love Watain's 'The Wild Hunt' painting by Zbigniew Bielak because normally he does illustrations with ink and this time he painted that album cover and it's gorgeous too."
Q.Are you happy with how the first book turned out?
"I'm very happy with it because everybody had something really awesome to offer, whether it's painting, illustration, custom-made jewellery, or something really unique like dolls that are really creepy and Halloween-y. It's still part of art and I'm not just focusing on one specific type."
Q. How did you come to have 'Darkadya' featured in this year's gallery?
"Even from when 'Darkadya' was just an idea that, with a budget I did not have, I'd have to spend countless hours reaching out to people willing to spread the word. There is a promoter named Stephanie in the UK who I've been in touch with and she told me that the guy behind Bloodstock was also into the arts and ran a gallery and is an artist himself. But I wondered what a book would have to do with Bloodstock, especially as I wouldn't be selling them, but she said I should reach out to him anyway. That's when I found out about the RAM museum and that Paul would like to promote the book there. He wanted to do everything he possibly could to help, not just put it out there for people to see, but actually advertise, make posters, have some photos taken with people opening the book... It's just extremely humbling to see that there are people who care about art, because the book is non-profit for me. All profit goes back to the artist that is picked by the customer and Paul loved that idea. Paul's art is exceptional, it's insane! It's so big and there are so many details and I can't wait to see it in person if I get to the UK at some point. He is an extremely talented person and it's no wonder he wants to spread the love, you know? He trying to give people somewhere to show their own art and their own passion because he understands that as an artist himself."